Don likes that Bikram yoga is anything but boring. "I started walking, but I found that to be too boring. I tried the gym, but I just couldn't focus on what I need to do, and I also found that boring."
"I heard about this hot yoga thing, so I investigated a few of them and found Bikram to be the best." Although Don describes his first Bikram yoga class as "brutal"; it's obvious to see why he would choose that over boring exercise regimes that he found difficult to stick with.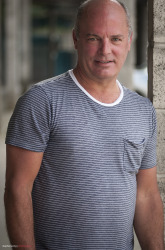 "Usually, I start a program (the gym, walking, running, etc.), and I give up after a short time." He adds, "I've been doing this for almost three years now, and I don't intend to quit – the benefits to my overall health are too valuable." He goes on to explain, "when I turned 50, the aches and pains of everyday living were getting worse and worse. Running didn't work, because my knees and joints hurt too much."
"I looked at a few other yoga paces," he says, "but the staff at Bikram Yoga Maple Ridge was so friendly and helpful that I decided to go try it." During his first class, Don wondered, "what was I thinking?" But he also instantly knew that this yoga is what he needed. "I wasn't looking for strength and endurance, I was looking for more flexibility. It wasn't until later that I realized I was getting strength, endurance and cardio."
Now Don's feeling incredible with his 3-4 class per week practice: "I have a lot more flexibility, better balance, my joints are stronger," he continues to list the benefits of yoga, "no more sore backs, I sleep better, I have more energy, I feel better, my concentration is better and I have a better immune system." In summary, Don claims that almost everything is better since he started doing Bikram yoga; previously, "I was really run-down, tired, no energy..."
He's looking forward to testing his new-found vitality this summer: "I want to try some things that I did 10-15 years ago that I couldn't do 3 years ago. The Grouse Grind is on my list."
He's quick to note that aside from the health benefits, he's stuck with Bikram yoga because "I enjoy it. I'm hooked! I like knowing that I'm improving with every class I go to."
Don says some people are surprised that he's doing yoga, "but once I explain the process, they say they would like to try it one day." He encourages all of his friends and family to try Bikram yoga – even just once. He's pretty sure that they'll be as hooked as he is.
Don loves his job as a realtor, but it also keeps him busy and the hours are irregular. He squeezes in classes whenever he can and laments, "four days without yoga and I can notice a difference in my mobility." Despite not having a routine, Don has the secret to maintaining a regular yoga practice: "It's easy when you're addicted to it," he smiles.
At 54, Don's goal for his health is to continue to do yoga as much as possible. "Three years ago, my vision of 10-20 years down the road was very bad. I was seeing myself as old and decrepit. I hated it! Now, I envision myself feeling great, being very active and living forever." He laughs a bit at this last statement and says, "well, for a long time anyway."